As the second to none drilling waste management solution provider and equipment manufacturer, GN Solids Control, although a completely private owned company, GN Solids Control is attracting more and more attentions from the China drilling giants, because of the newest and advanced solutions it provides.
Because the global warming issue and also the higher standards for protecting the fragile environment, more and more companies are forced to spend money and energy in the environmental issues. Therefore, to find a cost-effective solution and a reliable supplier is very important for the end users and every drilling company or and every service company.  GN Solids Control and GN's products are proved to be the suitable and best choice.
What does GN provide?
1. complete line of solids control systems, available capacities ranking from 250GPM to 3000GPM, equipments including shale shaker, desander, desilter, mud cleaner and solids control centrifuge, besides, there are pumps for feeding all those equipments. And also mud agitator, mud gun and jet mud mixer of all necessary capacities.
2. waste management system-for drilling cuttings, GN has different solutions for drilling waste cuttings treatment, including for WBM and OBM, and per different clients' requests, GN could customize them per jobsite need. GN even have module equipments to layout as building blocks. Those equipments are vertical cuttings dryer, decanter centrifuge and high-G shale shaker. Also screw conveyors are needed in such systems.
3. waste management system- for drilling fluid, GN has dewatering unit and dewatering centrifuge with a high speed, it will finally treat the drilling fluid and even the smallest particles are separated from the fluids.
Besides those systems, GN also have solidification unit and TDU and etc. GN's products are widely used in many industries not only limited in oil and gas drilling. GN's clients are not only the giant drilling companies in domestic China, but also from more than 60 countries and regions all over the world.
Drilling waste management and cuttings disposal have become a critical issue for any drilling operations because of stringent effluent limitations on the discharge of contaminated drill cuttings to the environment. The wastes discarded by the drilling mud circulation system must be disposed in safe way to the environment. GN Solids Control offers Vertical Cuttings Dryer and Big Bowl Decanter Centrifuge to dramatically reduce total volume of drilling wastes to diposal and revover much clean fluids back to the mud circulation system. GN offer a complete package of drilling waste management tank system as well.
Downlaod Brochure GN Vertical Cuttings Dyer
Download Brochure GN Decanter Centrifuge
GN Manufacture Vertical Cuttings Dryer as part of a total drilling waste management system. A properly engineered and operated system consists of four main elements:
A) Delivery system to move cuttings to the Cuttings Dryer
B) GN Vertical Cuttings Dryer 
C) "Dry" solids discharge / collection system
D) GN Decanter Centrifuge to polish the GN Cuttings Dryer effluent  
Each piece is crucial to proper operation and must be engineered accordingly.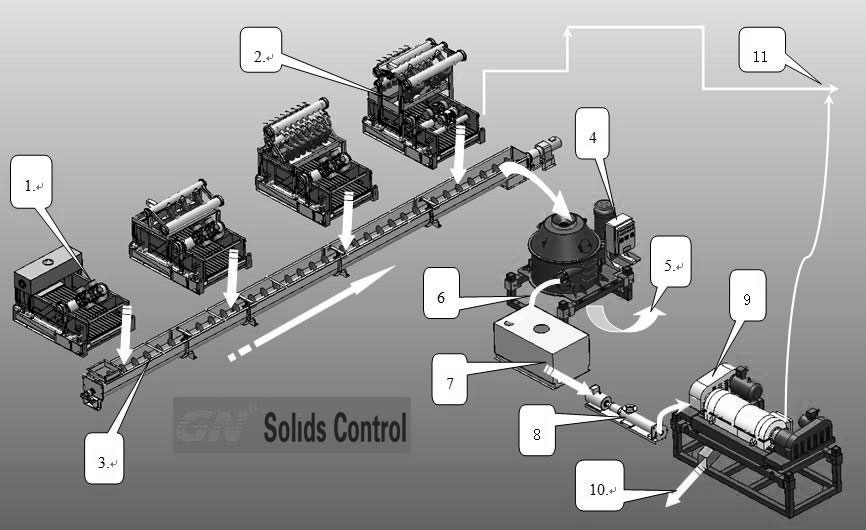 A) Feed System Size, shape, volume and moisture content of drilled solids can vary greatly. Installing a proper delivery system to deal with the range and volume of material is critical. Normally delivery systems including:• A variety of screw conveyors and chutes • Vacuum transfer systems • Positive pressure transfer systems and
B) GN Vertical Cuttings Dryer The GN Vertical Cuttings Dryer processes drilled cuttings to between 3% and 5% oil on cuttings. The dryer has comfortably processed cuttings generated when drilling reached 150 feet per hour in 20-inch hole (46 meters per hour in 508-mm hole).
C) "Dry" Solids Discharge or Collection A screw conveyor is usually installed beneath the Vortex Dryer and collects the "dry" solids, which are sent overboard if regulations allow, or are collected for final disposal off-site.
D) Effluent Polishing The Cuttings Dryer effluent is typically collected and pumped to a high-volume decanting centrifuge for further cleaning. The decanting centrifuge separates the slurry into fine solids and "cleaned" fluid, which is often sent back to the active drilling fluid system. A portion may be used as dilution for the Dryer. The solids from the centrifuge can be collected in the same vessel or conveyor as solids from the Dryer.