GNLW223 Series Mini Centrifuge is specially designed for small capacity, small footprint, and fine solids separation. It is designed to meet the drilling fluids recycling for mining drilling rigs especially for diamond drilling. The diamond drilling contract can choose to buy single centrifuge unit with electric drive fixed speed or VFD drive variable speed or even the Fully Hydraulic Drive. For the FHD drive Centrifuge, it can use the diesel engine to power the hydraulic pump to feed to the centrifuge without any electric. GN also has the completed tank system with Mini Shaker for option!
Download Brochure for Diamond Drilling Centrifuge
Download Study Case of Diamond Drilling Mini Mud System
Specifications
Centrifuge Model

GNLW223G

GNLW223FHD

GNLW223VFD

Centrifuge Type

Electric Drive 
(Fixed Speed)

Full Hydraulic Drive 
(Variable Speed)

Variable Frequency Drive
 (Variable Speed)

Max Capacity

150 liters/min

150 liters/min

150 liters/min

Normal Capacity

100 liters/min

100 liters/min

100 liters/min

Bowl Diameter

220mm

220mm

220mm

Bowl Length

660mm

660mm

660mm

Bowl Speed (Max)

4000RPM

4000RPM

4000RPM

Bowl Speed (Typical)

3800RPM

0 - 3800RPM

0 - 3800RPM

 G-Force (Max)

1770

1770

1770

 Main Drive

 15hp

20hp or N/A

15hp
Egneering Drawing: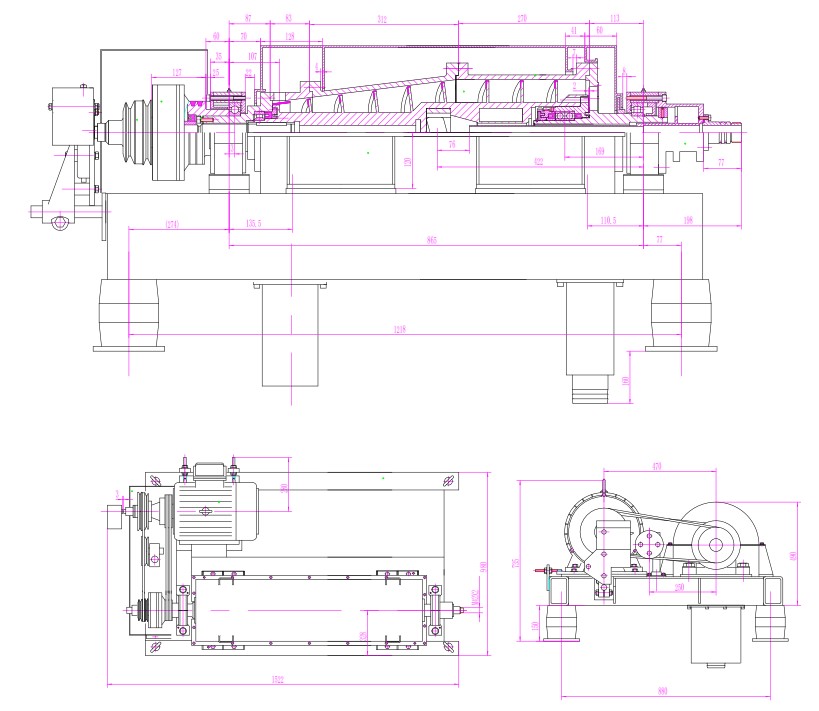 Decanter centrifuge is used as the 4th phase solids control equipment after shaker, desander and desilter. The centrifuge suck the mud from the compartment receiving the discharge from the desilters and mud cleaners, and the returned stream is directed to the next compartment downstream. The use of decanter centrifuge with the drilling mud is (1) removal fine solids from unweighted fluids (2) selection separation of colloidal and ultra-fine solids from weighted fluids to improve their flow properties.
Download Brochure - GN Solids Control Equpment
Download Brochure - GN Decanter Centrifuge
The Use of Decanter Centrifuges with Unweighted Drilling Fluids
GNLW series decanter centrifuges are specially designed for the drilling mud solids control. The effective centrifuging and fine drilled solids separation can remove significant quantities of inseparatable solids. This significantly reduces the tranditional dilution requirements and drilling waste volume for disposal.
When centrifuging the unweighted drilling mud, keep in mind the following:
Oerate the centrifuge with High G force as the solids loads are low

Adjust the weir to a deep pool to maximized solids separation

Control a smaller mud feed rate to increase residence time

Operate centrifuges in parallel, not in series if multiple centrifuges are required.
The Use of Decanter Centrifuges with Weighted Drilling Fluids
With the unavoidably higher solids content of weighted muds, the increase of gel strengths and viscosities, as well as the degradation of filter cake quality associated with the diminution of particle size with time, can become a serious problem. The problem is caused by the increasing concentration of colloidal and near-colloidal particles that are too fine to be separated from the base fluid. Centrifuges are used to selectively remove these fine solids.
With high solids content of weighted fluids, torque is a problem when processing it, the following is some advice when operating the centrifuges.
Increase pond depth

Reduce in rpm or run a higher conveyor differential 

Process the mud at a reduced feed rate
Subcategories