Diamond drilling is an important division for GN Solids Control. GN Solids Removal Unit is specially designed with compact tank system for mobilization.
The Solids Removal Unit includes a mini GNZS752 Shale shaker, and a baby size decanter centrifuge GNLW223 (9 inch) centrifuge, and the decanter centrifuge feed screw pump, as well as the mud tank and mud mixing pump and shearing hoppers.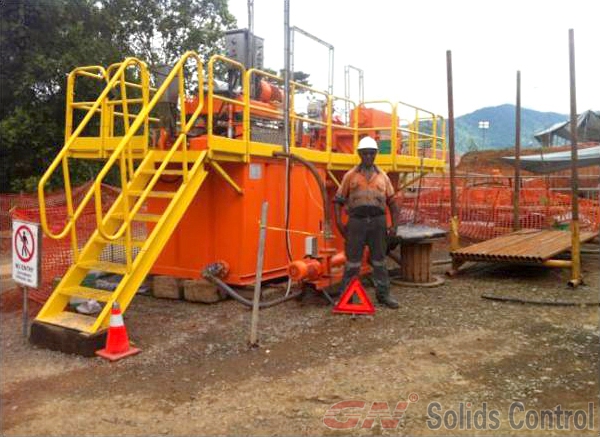 The GNZS752 shale shaker is made for removing coarse particles in the drilling fluids and, the GNLW223 decanter centrifuge is for cleaning fine solids in the drilling fluids. After treatment, the drilling fluids can be used for drilling again. This saves money for preparing new drilling fluids, and also it gives an environmental friendly jobsite.
Diamond drilling is different from other drilling, the diamond core drilling needs a small handling capacity solids removal unit, but also it needs to be very compact for transportation, and small foot print for set up.
The mud tank is for storage of drilling fluids, and the mud mixing pump and hopper is for adding chemicals to the drilling fluids. 
The GN Solids Removal Unit can be put into a 20FT container for international shipping, and GN solids control provide commissioning service and training for the clients to operate the equipment. What we offer the clients is a turn-key solutions for handling the drilling mud.
With our worldwide partners and USA, China, Russia branch, we support our solids removal unit all around the world. Besides the solids removal unit, GN also have the oil gas drilling solids control system, No dig mud recycling system, TBM and bored Piling desander plants. GN Solids Control focuses on the liquid and solids separation solutions. 
As the first API certified solids control company in China, GN Solids Control is your reliable supplier for Solids Removal Unit.