A mud cleaning system with a shale shaker tanks system and a mud cleaner system is ready for shipment. The system is a customized design per client's special requirement. It is a 3-tank mud cleaning system for a middle east project. The 2-tank mud system will be service for HDD (horizontal directional drilling) rigs in middle east.
The HDD rig mud cleaning system is including below equipment: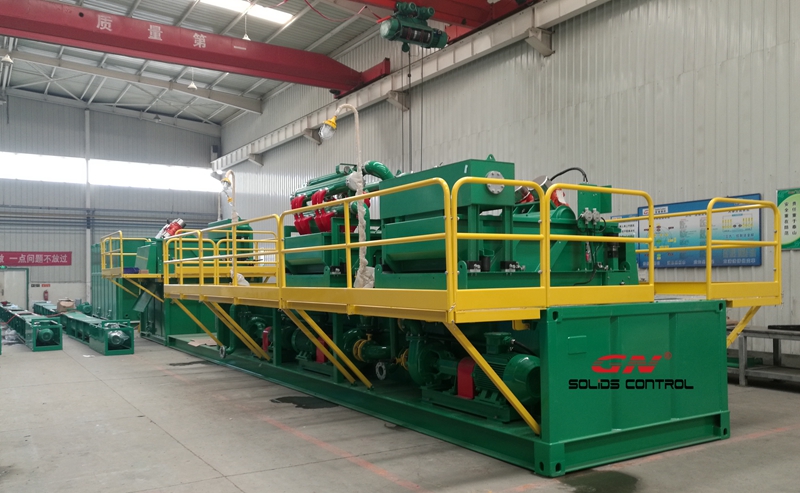 No. 1 tank : shale shaker and mud cleaner tank
1)  One set GNZS703E linear motion shale shaker for the first step pre-separation.
2) One set GNZJ703-1S8N mud cleaner followed with shale shaker
3) Two centrifugal pumps are used as feeding pump for the 10'' desander and 4'' desilter hydro cyclone cones.
4) Mud tank with agitator walkways, guardrails, lights, ladders and control panels.
No. 2 mud tank: shale shaker tank
2) One set GNZS703E shale shaker for the second mud tank,
2) One centrifugal pump for transfer drilling fluids from the mud tank to storage tank.
No. 3 tank: Mud mixing tank system
It is a complete mud mixing system include mud tank, shearing mixing hoppers, mud agitators, and guns.
The system is complete with walkways, ladders, lights, explosion proof control panels to suitable for outdoors applications and for a longer lifetime,
GN Solids Control shale shaker
GN offers 3-panel and 4-panel shale shakers for different applications. GN also have single deck and double deck shale shaker for option. For clients prefer dual motion shale shaker, GN do also offers.
GN Solids Control mud cleaner:
GN design mud cleaner is compact and it is very user friendly. It can also be used as a shale shaker. Clients do not need to remove the cone assembly while use it as a shale shaker. The hopper collection can be used a feeding box for shale shaker.
There is a tool box in the left side of the shaker deck. Operator is easy to find the tools for screen changing or for the shaker deck angle adjustment.