Screw conveyor system is widely used together with the vertical cuttings dryer system. The auger screw conveyer system can be used to feed cuttings to vertical cuttings dryer, and collection sands discharged from vertical cuttings dryer and then convey to cutting containers, trucks or other sand holding device.
GN Solids Control makes different sizes of screw conveyors to suits for different applications:
The auger diameter varies from 10 inch to 16 inch. There are 10 inch, 12 inch, 14 inch and 16 inch as standard size available from GN Solids Control.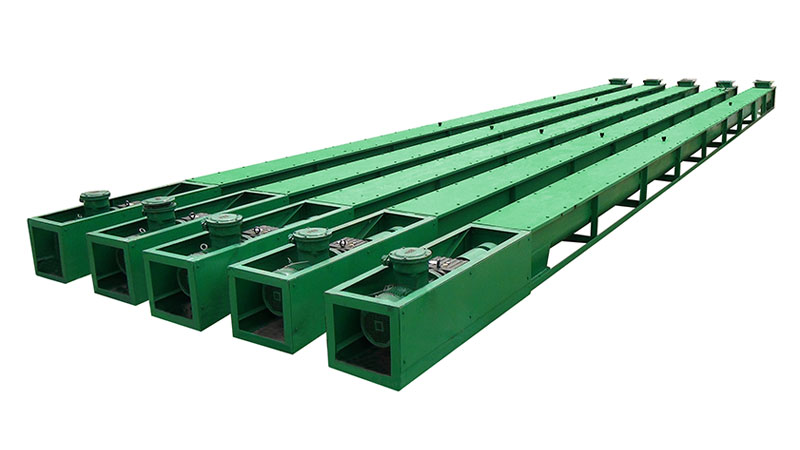 Each size auger conveyor is with screw elements of length 12 ft for each section. The different sections of 12 ft. will be interchangeable. Transfer length can be 24 ft, 36 ft and 48 ft.
Screw conveyor system can be used together with other devices to suit for different applications.
Feeding type for Vertical cuttings dryer at rig site: 
As the Vertical cuttings dryer is capable to treat the drilling cuttings discharged from solids control shale shaker, decander, desander or mud cleaner. It cannot be used to treat the soil discharged from decanter centrifuge. It is too fine to separate by theVG dryer screen basket. 
In this case, at least 2 sets 36ft screw conveyer will be used in the rig side VG drying system:
Screw conveyor #1: It is in level to collect drill cuttings from solids control system
Screw conveyor #2: It should be inclined to collect cuttings transferred from #1 screw conveyor and convey to the VG dryer feeder hopper. 
Screw conveyor to transfer drilling waste from waste pits or containers:
There should be a V-hopper on top of the screw conveyor to collection and buffer the drill cutting. And the screw conveyor is inclined to convey cuttings from the V-hopper to VG dryer.
However, the screw conveyor system is only suitable for the drilling cuttings with less liquid phase content. If the liquid content is high, screw conveyor cannot do. And it will cause leakage. Vacuum transfer pump will be used in case of the fluid content is high. It is a powerful 100% air driven pump suiting for a very wide range of applications.