GN solids control is a leading manufacturer for mud solids control equipment, drilling waste management  equipment and different models replacement shaker screens. GN Solids Control design and make different standard drilling cuttings treatment system per clients' project request and their jobsite situation. GN Solids Control also has some standard drilling mud purification system and drilling cuttings treatment system which can suit for the general situation of most projects. In enable the clients can get the complete solution for a reliable mud system within short delivery time and with very good price.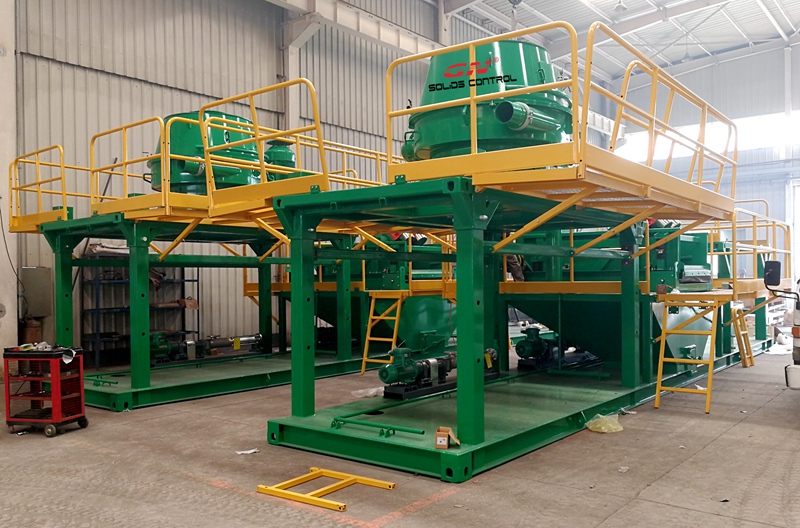 GNCM-40A is one a standard cuttings drying system from GN Solids Control. The cuttings drying system can be used to drilling the oil base mud and cuttings, as well as some kinds of water based mud and water based mud cuttings. The standard Cutting Management System is including below equipment:
1) 1 set of Vertical Cuttings Dryer GNCD930D, complete with a German brand progressive screw pump to flushing the screen baskets.
2) 1 set of 2-phase Decanter Centrifuge GNLW363C-VFD international Standard premium quality. The centrifuge is equipped with 3 VFD drives for 3 VFD control: for the main drive VFD control, the back drive VFD control and the feeding screw pump VFD control. The centrifuge feeding screw pump is with max. 30 m3/h capacity.
3) 2 sets Telescopic Skid for decanter centrifuge and vertical cuttings dryer respectively.
4) 1 set of Electric Cradle to the VG dryer screen changing and the normal maintenance.
5) Explosion proof Electrical Control system to control all above
3) A skid with catching tank to hold all above for fast movement. 
Features of the GNCM-40A drill cuttings drying system:
The centrifuge on GNCM-40A is set up on a telescopic skid with height adjustable. The advantage of this design is to allow the fluids discharged from the centrifuge to flow to the storage tank or active mud tank by gravity. But when move the complete system by truck, the telescopic skid should be lower down, and there is no storage capacity for the catching fluids from centrifuge.