Water well drilling rigs are widely used for oil and gas drilling field, for normal lifetime and for industries.
Take the oil and gas drilling for example, water is the necessary material for drilling activities. Water is request to for drilling fluids mixing, for tank cleaning, for flush, for equalizing well pressure, etc…  There will be different people involved for drilling activities; Water is also the essential material for the rig peoples. The rig sites are normally far away from human area. Well well drilling is the most fast and most convenient way for the water supply.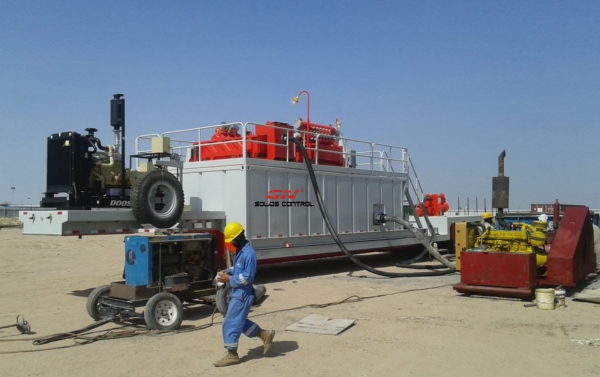 GN Solids Control engineer just came back from a middle east job site. He finished the first time commissioning and training of 1 set GNMS-500G water well drilling mud system. The 500GPM mud system is design and made for their oil rigs.
The system is composed of a single deck linear motion shale shaker, a hydro cyclone desilter separator, a drilling fluids mixing system, feeding pump, mixing pump, the explosion proof electric control system, trailer skid mud tank and electrical lighting systems.
For a compact design, GN put the feeding pump for hydro cyclone desilter, and the mud mixing pump on the skid.
In order to get a bigger usable capacity, GN designed the mud tank with 3 m width. Not only in China, but also in many other countries, 3 m is the normal width limitation for inland shipment. GN make all the sand gates build-in type. In this case, it will not over the tank width scope.   
Clients request a mobile unit for fast movement. In order to save the cost of clients, GN Solids Control recommend client to source trailer skid locally and buy complete mud system from GN. GN Solids Control customize the system suitable for trailer skid. There are container corner blocks at each tank corner. The tank can be out and locked on the trailer skid like a container.