The 2018 Beijing oil show was gone with great success for GN Solids Control company. The same as all previous years, GN Solids Control took its new technology and equipment for the show to communication with clients and peers. 
This year, GN Solids Control new products are all focusing on oily sludge treatment, which is a new trench for waste management. As more and more people realize the importance of importance of environment protection, and the government increases the standard of environment protection, industry waste control and treatment becomes a new trends. More and more services companies are looking for new technologies and efficiency way for waste management control, especially the oily sludge waste and the contaminated soils.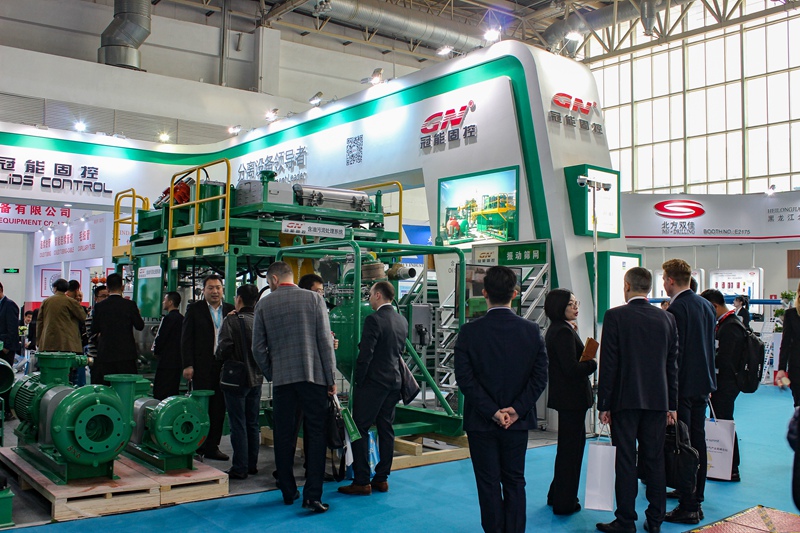 GN made Oily sludge treatment system get much focuses on the oil show as its compact design and full functional. 
The system includes below processing equipment:
1) A pre-mixing and heating tank. Operators feed the oil sludge to the premixing tank, they can dilution and heating the materials per needed in the tank. 
2) There is a 4-tank chemical dosing unit is equipped in the system. There are 3 tanks for automatically PAM mixing and dosing. Operators can dose chemicals to premixing tank for demulsification, to make the oily sludge easier for next process. The 4th tank in the chemical dosing unit is for PAC liquid chemical dosing for flocculation. 
3) After mixing in the premixing tank, material will be fed to a shale shaker to remove the big size solids. Then the solids will be discharged outside of the system, the liquid will be recovered to a small storage tank and then feed to decanter centrifuge. Before liquid entering into decanter centrifuge, flocculants will be added to remove as more ultrafine solids as possible. 
4) A 3-phase centrifuge is followed by the decanter centrifuge to separate oil and water. And then the oil and water will flow to the oil tank and water tank respectively. 
Above is just a direct introduction of the oily sludge treatment system. For clients who want for more detailed information, please contact GN Solids Control sales managers.