As one of the major liquid and solids separation centrifuge manufacturer, GN Solids Control exported many dewatering centrifuge systems to worldwide market, like Canada, British, Singapore, UAE… GN dewatering centrifuge system can be used in oil field and non-oil field. 
GN Solids Control exported many big bowl dewatering centrifuge systems to Singapore for construction field waste water treatment. It can be used to treat and recycle waste water from horizontal directional drilling, from piling project, from micro tunneling projects, from dredge slurry separation projects, or from other pipeline and underground activities.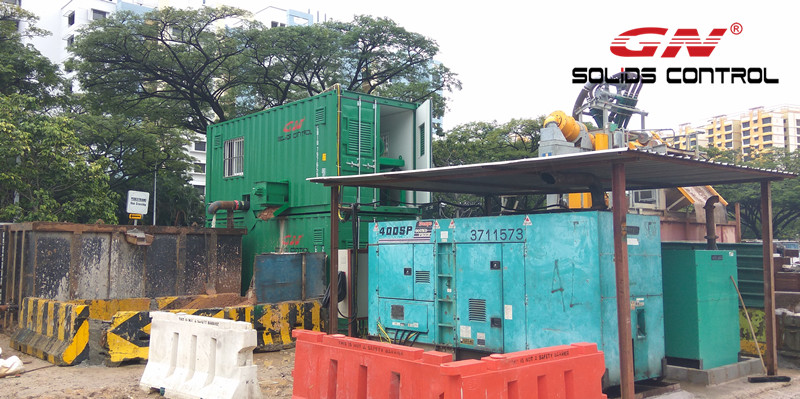 Recently, GN engineer come back from Singapore and finished the commissioning and training works of a new dewatering centrifuge system there. Now the waste water treatment system is running well, clients are happy with it.
The water centrifuge for Singapore client is very similar to other dewatering centrifuges sold there before. It includes below processing equipment:
1) Big bowl decanter centrifuge GNLW553C-VFD. It is a 22inch big bowl decanter centrifuges widely used for fine solids separation, for drilling mud separation and waste water treatment.
2) An automatically power chemical mixing and dosing system. The chemical dosing system will be used before the waste water feeds to the centrifuge bowl for flocculation.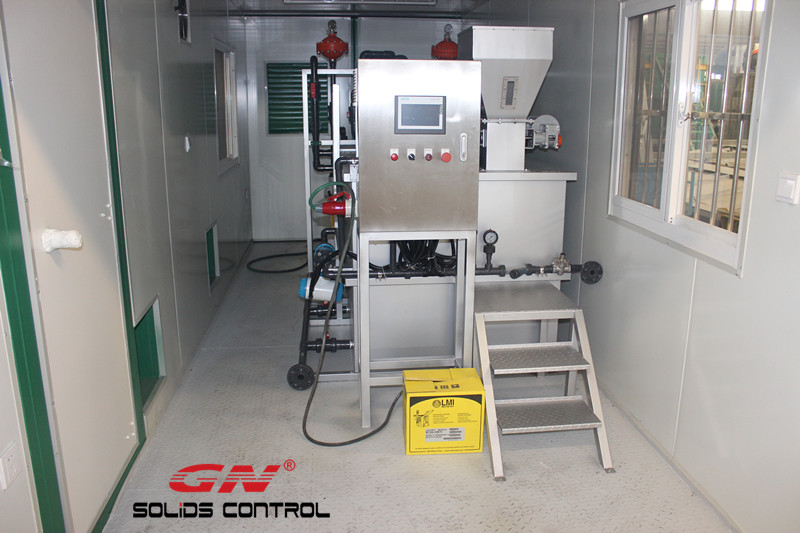 3) As the construction waste water treatment is mostly took at near the city or in the city. There I a strict limitation on space. GN Solids Control fixed Both the automatically power chemical mixing and dosing system and the 22 inch big bowl centrifuge into containers respectively. And the 2 containers can be laid at 2 layers. The big bowl decanter centrifuge container will be put on top of the chemical dosing system container. It is easy for movement and can saves space.  
The centrifuge dewatering system is used after the slurry separation system. The slurry separation system will remove most of the big size solids in liquid, to reduce the mud weight and the solids contents, and to make the waste water qualified for centrifuge separation. GN Solids Control can also offer the slurry separation system (C/W with shale shaker, hydro cyclone separator, feeding pumps, mud tank system, lighting system, electrical control system).