Full hydraulic drive (FHD) centrifuge is popular for drilling waste and drilling cuttings treatment project in remote areas and for hazardous environment. For many big projects, the end user will appointed to only accept Full hydraulic drive (FHD) centrifuge. They do not want a variable frequency drive (VFD) centrifuge as an instead. Why? The reason is as bellows.
1) Full hydraulic drive (FHD) centrifuge is high technology then the VFD centrifuge. Many people prefer the new technology. They think it is better.
2) Full hydraulic drive (FHD) decanter centrifuge change bowl speed and the conveyor speed (differential speed) through the hydraulic system. It is more sensitive and has a wide range. The VFD centrifuges change bowl speed and conveyor speed by changing the main drive and back drive motor frequency. The centrifuge bowl speed and differential speed is with logical relation. When the motor frequency is changed, the motor running speed will be changed, and then the centrifuge bowl speed and differential speed will be changed accordingly.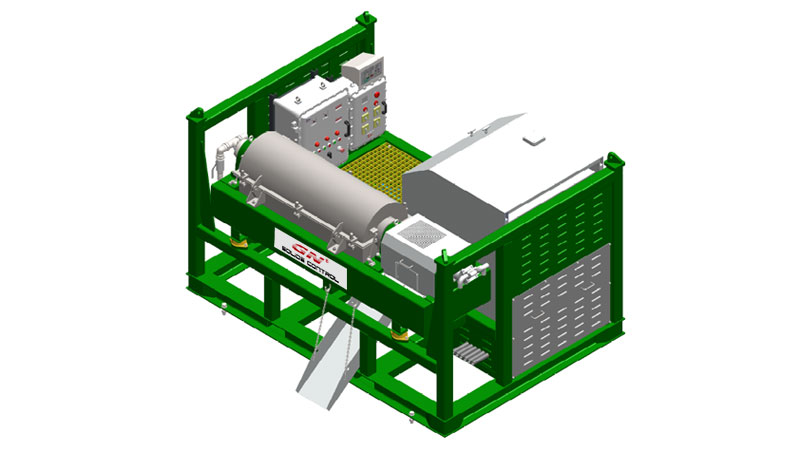 3) Unlike the VFD drives, the hydraulic system will not generate extra heat when the operators change the hydraulic system to change the centrifuge speeds. The hydraulic system itself can bear a high temperature. It is suitable for high temperature areas.
The Variable frequency drive centrifuge is control by VFD drives insides the VFD control panel. The VFD centrifuge is a sealing panel with VFD drives and other electrical components inside. The VFD drives will generator much heating during working. Other electrical components will also generate heat during working. In low temperature ambient or in winter, the heat is not a problem. But in the high temperature areas in summer, the heat will cause troubles. If there is not a very good cooling system, the heat will damage the VFD drives and electrical components.
GN Solids Control offers different sizes high quality full hydraulic system for mud solids control, for waste management, drilling cuttings management and other solids liquid separation applications.