Chinese Lunar new year holiday is coming in the corner. There is only 3 weeks before the holiday. As there will be no people working during the holiday. And there is no vessel for shipment during a whole month. GN Solids Control workshop is working day and night to ensure a timely delivery before the new year holiday. This week, 3 sets of mud gas separator is ready for shipment and will be ship to a France client soon. 
Application and functions of mud gas separator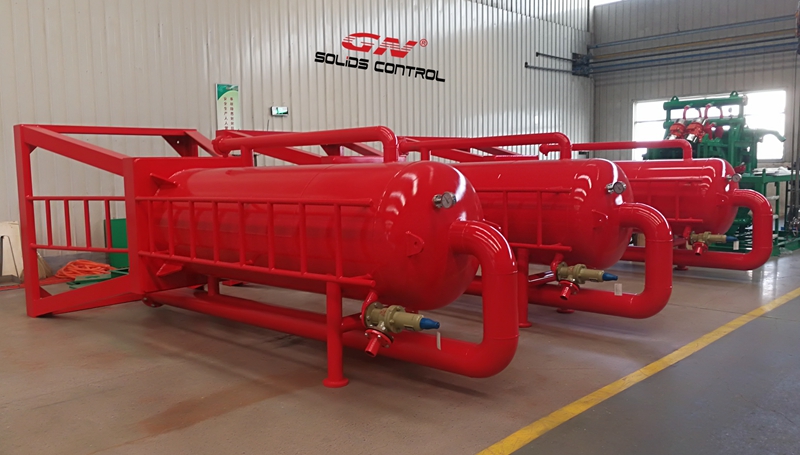 The mud gas separator is an effectively machine to prevent harmful gas from erosion, and ensure the safety of human and rig site equipment. It is also named poor boy degasser. When the drilling fluid is with air invasion, there will be a large deviation on drilling fluids proportion and viscosity, it cannot meet the drilling requirements. if the air invasion drilling fluids cannot be treated timely and properly, it will cause a surge, or even cause blowout accident. The combination of l mud gas separator and electronic ignition device can ensure the smooth operation of the drilling process.
The mud gas separator is used with choke manifolds to remove free gas from drilling fluids. And mud gas separator can be applied to underbalanced drilling and gas containing hydrogen sulfide. It is used to control liquid level and pressure of air invasion drilling fluids. 
Besides mud gas separator, GN Solids Control offers complete solution on mud solids control and drilling waste management. 
Mud solids control equipment GN Solids Control does offer:
Shale shaker, desander, desilter, mud cleaner, borate receovery decanter centrifuge, high speed decanter centrifuge, mud tank system, mud mixing system, mud agitator, various pumps etc…
Drill cuttings treatment equipment GN Solids Control does offer:
High speed and big bowl decanter centrifuge, vertical cuttings dryer, High G shale shaker, screw conveyor, dewatering unit, screw pumps, drill cuttings solidification unit, etc….
High quality replacement composite material pretension screens for different shaker models. 
GN Solids Control advanced design equipment is with new technology. GN can offer Zero discharge drilling fluids treatment equipment for drilling rigs.