The shale shaker screen from the original shaker manufacture Derrick Equipment company is metal frame shaker screen. To have a better quality shaker screen, GN Solids Control has developed new technology replacement shaker screen for Derrick FLC 500 series shale shaker.
The composite shaker screen is made by plastic injection, inside the frame is metal to support the shaker screen outside is covered by recyclable plastic.
The advantage of GN Composite shaker screen for Derrick FLC 500 are as following: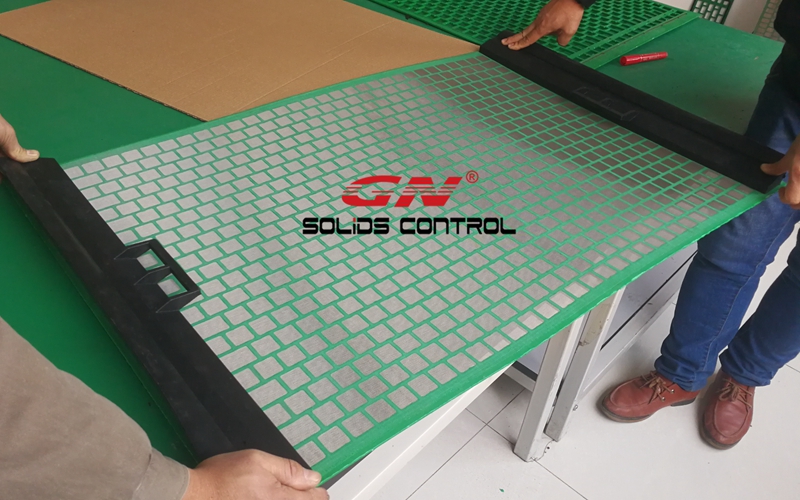 1)Inside metal frame is made by CNC machine have better quality and consistency.
2)High temperature resistant to 140 °C degree compared to metal frame shaker scree for HPHT drilling conditions. 
3)Four-side tension of mesh during the heat press to minimize the gap between the top screen and support screens, in a result extending the screen life. 
4)GN shaker screen for FLC 500 is made from high performance wire mesh configuration is compliant to API RP 13C with normally longer screen life.
5)The replacement shaker screen for FLC 500 is is repairable to save cost.
6)Since the replacement shaker screen is with composite frame which is covered by plastic, it is rust resistant for long time storage up to over 5 years.
Besides the composite frame shaker screen for Derrick FLC 500, GN shale shaker screens are available for many other types. Following are the popular shaker screens in composite frame from GN Solids Control:
1) Replacement Screen for NOV Brandt Cobra, King Cobra, Mini Cobra, Venom, LCM-2D, LCM-3D shaker, VSM 300 shale shaker.
2) Replacement Shaker Screen for MI-Swaco MONGOOSE PRO, MONGOOSE PT & MEERKAT, and MD-2/MD-3 shale shaker.
To make is easier for clients to select and order shale shaker screen from GN Solids Control. We have published our online shopping mall for shale shaker screen. Please visit: www.gnsolidsmall.com for more details and order your shaker screen online.