Weeks ago, GN Romania partner accompanied the end user, a drilling rig contractor in Romania, came to GN Solids Control main factory in Beijing China, to check their full set mud solids control system for their new rig. It is full set mud solids control system for their 1000hp oil rig. The system is made per CE standard for European market. The electrical system is also made per European standard ATEX.


They checked the quality and the performance of the mud solids control system, and very happy with GN products. After their check, GN Solids Control logistics team dispatched the system to the Tianjin seaport for international ocean shipment.
It is a full set mud solids control system with 3 stages solids control process and 4-stage treatment.
The first step solids control process is 3 sets linear motion shale shaker, GNZS594E. It is GN latest design 4-panel shale shaker. And it is one of the most hotel sale equipment model from GN. The shaker deck is made from stainless for longer lifetime. Vibration motor is choose from Italy Oli (US Martin is available if client request).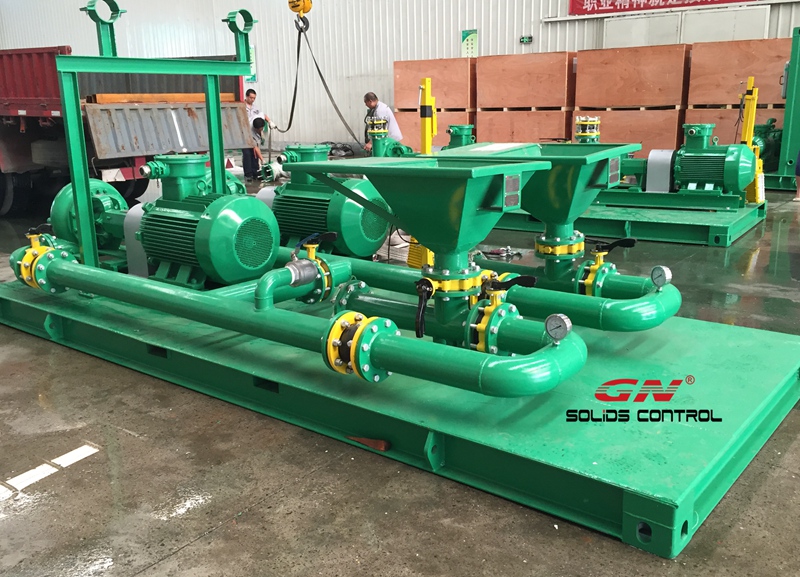 The second step and the third step is by mud cleaner, it is combination of linear motion shale shaker, desander and desilter. The underflow shale shaker is the same with the 1rst step solids control shale shaker for spare parts interchangeable.  
Furthermore, the 1000hp oil rig mud solids control equipment is equipped with below equipment:
1) 1 set of vacuum degasser. GN special design vacuum degasser is self-suction type.
2) 2 sets of centrifugal pump feeding for the desander and the desilter. The pumps are interchangeable with NOV Mission pump.
3) Dual hopper and dual pump mud mixing system, to mixing new chemicals for the system
4) 20 sets mud agitator for shale shaker tank, suction tank, mixing tank and storage tanks.
5) Mud tanks for the full mud solids control system, including trip tank, shale shaker tank, suction tank,