Shale shaker (linear motion) shale shaker, desander and desilter are composite of the complete line solids control system together with decanter centrifuge, vacuum degasser and poor boy degasser. Their main function is to remove the big solids step by step in the drilling fluids, to reduce the mud weight and make the drilling fluids qualified for the drilling function.
Recently, another 3 sets 4-class drilling fluids cleaning system have been finished and ready for dispatch. The 3 sets mud cleaning systems are composed of 4-class mud cleaning equipment as following: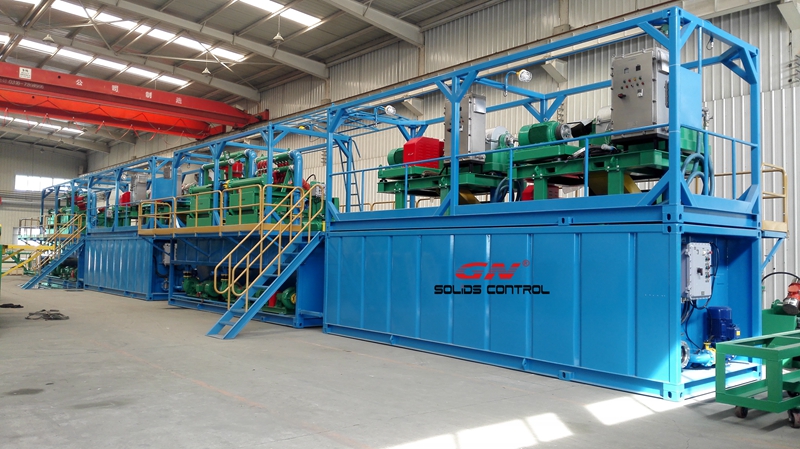 1)      A double deck shale shaker desander with 2 ea 10 inch desander cone.
2)      A double deck shale shaker desilter with 12 ea 4 inch desilter cone.
3)      2 ea middle speed decanter centrifuge with variable speed control to reduce the mud weight.
Many people may be wondering, where is the shale shaker? Exactly, there is no separate shale shaker machine seen on the system. Why we say it is a full 4-class mud solids control cleaning system? The reason is that, the bottom shaker deck on the double deck desander and double deck desilter will be used as shale shaker. It means, the system includes 2 ea solids control shale shaker, 1 ea desander and 1 ea desilter, and then 2 ea decanter centrifuge. It is a high standard drilling fluids mud cleaning system, it can meet the requirement of big depth drilling activities.  
It is not the first time CNPC bought this kind of design drilling fluids cleaning systems from GN. At the end of year 2015, CNPC order 3 sets the system design mud system and send their engineering team and management team come and check. They are very happy with GN design and happy with GN quality. Good quality and reliable services, as well as the competitive price compared with the quality. It is the reason why CNPC choose GN through so many Chinese suppliers. It is also the reason why GN brand expanded so fast.