SMOPYC is a professional and high level exhibition in the world, which is held every three year in Zaragoza City in Spain. It is a show for public works, construction and mining machinery. Each time, there will be more than 1000 exhibitors show their products and services in SMOPYC and attracting more than 50000 visitors, most of whom are experts in such fields. Here is the website of SMOPYC: www.smopyc.com.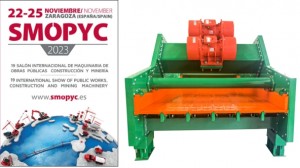 Exhibition Position: A-2 Km, 311, 50012 ZARAGOZA, SPAIN
Duration: Nov. 22nd to 25th, 2023
GN Booth No.: C5-7, Hall 3
This year, for the SMOPYC, GN Separation will show one of its vibrating screen models, a dewatering vibrating screen with a small size, considering the booth space and oversea transportation. In fact, GN Separation has more than one type of mining vibrating screens, each type with several models for covering different working condition and serving various treating capacities, including following:
1.High frequency vibrating screens for fine screening. Those screens are designed with high frequency at 25hz. They are suitable for fine separating with screen opening size as small as 0.045mm. GN Separation has single deck vibrating screens and stack sizer models with 3/4/5 decks, sharing exactly same flexible screen meshes.
2.Middle sized mining vibrating screens for classification and dewatering. They are linear motion vibrating screens with polyurethane screen panels. Comparing with the high frequency fine screenings, they are larger in both screen machines' dimensions and opening sizes.
3.Large vibrating screens. GN's main products as large vibrating screens are of 3 types, the large linear motion screens, the large banana vibrating screens and large flip flow screens. Each model has its single deck and double deck ones, for producing 2 or 3 sized products. Based on given treating capacity and material weight and particle distribution, GN engineer will suggest a suitable model.
Welcome to GN Booth for more information and business opportunities.